Stunning Fire Pits and Tables
The Hottest Addition to Your Backyard Oasis
Gather your friends and loved ones around a gorgeous, relaxing fire pit or fire table this summer. Ideal for any occasion, these backyard additions are stylish, convenient, easy-to-use, and offer plenty of surface space for dining and drinks.
Beautifully crafted with durable, weather-resistant materials, these fire features will withstand the test of time.
Experience the warm radiance of a roaring fire in your own backyard this summer!
Luxurious Outdoor Furniture for Every Landscape
There's no limit to what you can do with your backyard living space. Adding a stunning gas fire pit to be your focal point will undoubtedly be the centre of all your summer evenings, barbeques, and parties. Keep your guests cozy and share stories around a mesmerizing, luxurious fire pit.
Benefits include:
Convenient – turn on or off quickly
Safe – eliminate sparks, smoke, and control heat
Low-maintenance – don't worry about cleaning soot or ash
Energy-efficient – push-button ignition saves on gas
A great alternative for areas prohibiting wood burning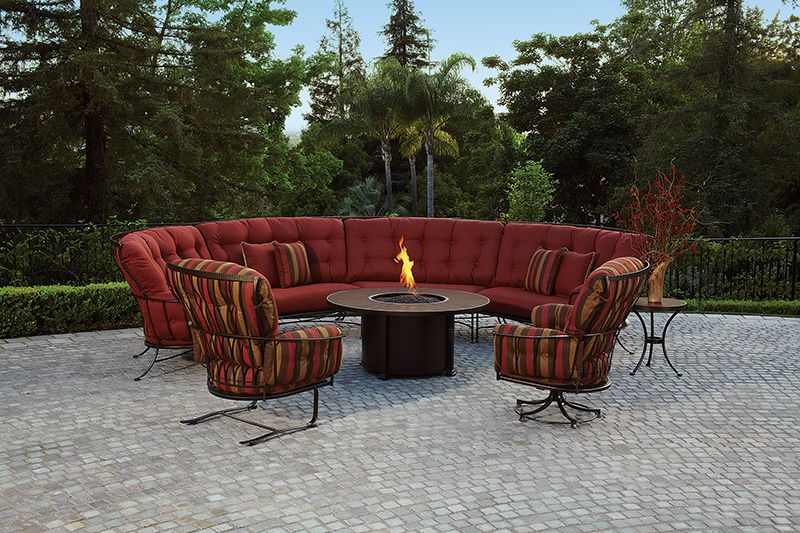 Gas Fire Pits to Suit Your Backyard
O.W. Lee
As one of the best names in the industry, O.W. Lee offers handcrafted patio sets and fire pits that never compromise on quality or style. With four collections to choose from, you'll be sure to find the perfect addition to your patio this summer.
Cabana Coast
Select from a complete line of beautiful fire pits from Cabana Coast. Each fire pit offers a unique flair and style to compliment your backyard. Their exceptional craftsmanship will wow your guests and make you the envy of your neighbours!
Telescope Casual
Having been in the business for over a century, Telescope Casual knows how to deliver. Their handmade fire pits are built to last, meeting exceptional quality standards for design and usability, making them an excellent choice for your next patio addition.
What are the types of fuel used?
Fire tables are typically gas-fueled, making them easier to use and more efficient than the wood-burning alternative. For clean burning fire pits, natural gases like propane, ethanol, and bioethanol are ideal.
How do I know if my backyard is large enough to accommodate a fire pit?
A fire pit usually needs to be three metres from any structure, with a clearance of two metres above it.
If you have a large, open backyard, you can place your fire pit almost anywhere, as long as it's far enough away from buildings, fences, hedges, branches, and other combustible material. Check your building code and the manufacturer specifications of the fire pit to be sure.
Do I need a Burn Permit from the city?
You only need to obtain a Burn Permit (Open Air Permit) if you are burning wood in the open air. You will also need to contact the Ottawa Fire Service to see if there is a fire ban in effect.
You can check the City of Ottawa website for more.
If your fire pit is fuelled by ethanol, natural gas, or propane you are not obligated to obtain a Burn Permit. Regardless of what type of fire pit you have, it's always a good idea to check with your home insurance provider before installing a fire pit since your policy might be affected.
How far away from my house should I keep the fire pit?
For fire safety, fire pits must be at least 10 feet away from any structure or combustible surface. But make sure to check with your local burn laws for a more accurate distance.
Fire pits should also never be used under overhanging trees, a building overhang, or a partially enclosed space.