Teak offers some great advantages over other forms of outdoor furniture in the summer months and is a popular choice for outdoor living in Ottawa. Due to teak's resistance to heat, you will not have to worry about sitting on hot furniture during a sweltering summer day. Teak patio sets are also durable in all weather due to its natural oil content and resistance against rot, allowing them to be left outside.
Teak is perfect for creating either a casual or contemporary look for your patio or outdoor dining area. Visit our Ottawa location on Richmond Road today for our full range and seasonal specials.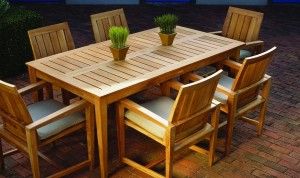 CLICK THE MANUFACTURER TO VIEW THE CATALOG:
Consistently listed as a top-selling line by retailers in Casual Living magazine's feature "Hot Sellers," Kingsley-Bate is a popular line with pool and patio stores, casual furniture retailers, and garden centers. The site line of furniture is regularly specified by interior and exterior designers, architects, and landscapers worldwide for use in commercial, institutional, and residential properties including hotels, parks, universities, resorts, and restaurants.