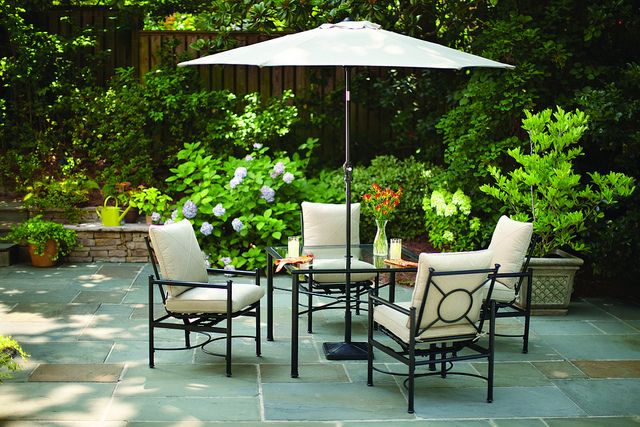 Another season comes and goes and so does another trend. But, your patio furniture remains. Here are some helpful tips to consider when purchasing new outdoor furniture. Make your patio your own.
Every spring there's a new trend that makes your backyard look inadequate. The average Canadian can't afford to buy new patio furniture year after year. The answer to this age old problem is cast aluminum outdoor furniture. There are a number of reasons to buy cast aluminum outdoor furniture: it's strong, always stylish and built to stand up against Canada's harsh weather. It's all about the quality, style and durability.
These easy tips can make your shopping experience enjoyable and well-worth it. Stop by any patio store in Ottawa for more useful advice. 
What's Your Colour?
The first step when purchasing patio furniture is choosing a colour scheme then a style. Choose deep earthy colours that reflect your back yard and the atmosphere you're trying to create. If you're having trouble deciding colours or style ask an expert at a patio store in Ottawa.
Quality Counts
This is one of the most important things to consider when buying outdoor furniture. Make sure the furniture is made of solid, durable materials that will last. You can never go wrong with cast aluminum outdoor furniture; it reigns superior over wicker, wood and plastic. Also take into account the price; you get what you pay for. Visit a well-established patio store in Ottawa to get the best deals possible.
Size Matters
Is the furniture right for your backyard? Size is a very important when it comes to patio furniture. If you have limited outdoor living space don't buy a table that seats 15. Buy according to the size of your backyard; you want to have enough room to move about freely.
Hibernation
Make sure that you have adequate storage space for your outdoor furniture in the winter. Store your furniture in a safe dry place away from the elements. If you plan on leaving your furniture outside over the winter, you may want to buy cast aluminum outdoor furniture. If you have pieces of furniture that are too big for storage make sure you properly protect them. You can purchase a variety of quality furniture covers from a patio store in Ottawa.
Comfort vs. Style
Don't trade style for comfort; I can't stress this enough. Make sure it feels as good as it looks. You want your patio to be as comfortable as it is inviting. Nobody wants to sit on a chair that's hard as a rock, regardless of how stylish it is.
Cost-Effective Ways to Spruce up Your Patio
Light my fire pit: add a little ambiance to your back yard with a fire pit.
Take the indoors outdoors: use pillows, cushions and area rugs to bring the inside out.
Illuminate the dark: add lanterns, Tiki torches and candles to brighten up your nights.
A flowery suggestion: plant bright, inviting, flowers to green up your patio.
Just add water: an inexpensive water element can make a world of difference. Let the calming sounds of flowing water soothe you and your guests.