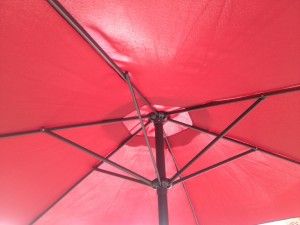 With signs of spring everywhere you look, Ottawa is almost done its great thaw and warmer temperatures are on their way. The best part is that with the arrival of spring summer will be here before we know it and you can indulge in all the backyard relaxation you can image. But in order to enjoy yourself this season, you might want to give your patio an update. Patio umbrellas in Ottawa are all the rage this season and the cantilever umbrella is the perfect addition to your summer oasis.
A cantilever umbrella makes a very unique and modern addition to any patio. It features a sturdy base that supports a long arched arm that lets the umbrella hang freely on top of your space. They come in sizes large enough to fit over an entire patio seating area or small enough to create a great shaded area for playtime with the kids. Out of all the patio umbrellas in Ottawa, the cantilever umbrella is a smart choice for your outdoor space.
Not only does a cantilever umbrella fold up and store effortlessly, it has the space-saving advantage of extending out from the side instead of straight up in the middle. This gives you more room to play with the layout of your patio and have more leg room at your outdoor dining table. It resembles a canopy and is one of the most popular patio umbrellas in Ottawa this season.
Many patio-owners choose having a large canopy umbrella over other options like gazebos. Though you do not get the netted-in protection from leaves and bugs, you can enjoy the shade on sunnier days and tuck it away when you want to enjoy the sun's rays. Perhaps you're only renting, or live in an apartment or townhouse and can't commit to something as permanent or large as a gazebo. Patio umbrellas in Ottawa have become a top choice for staying cool this summer no matter what kind of yard you have.
Once you've updated your patio, it's important to make sure you maintain your umbrella so it lasts as long as possible. Some tips for keeping your cantilever umbrella in top shape include putting it away or closing it up when you're not using it. Winds and bad weather can take a toll on any patio furniture, especially your umbrella, so tuck it away when you spend the day inside. Another great tip is to wash the frame and canopy every once in a while. This will help keep it looking brand new and fresh.