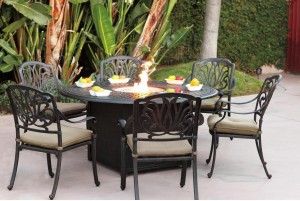 Living in Ottawa has a lot of perks. But while we have amazing summers and beautiful winters, unfortunately we also have to deal with extreme temperature changes. We go from 40°C in the summer to -40°C in the winter. These extreme changes in temperature can easily damage outdoor patio furniture if it's not properly protected. After all, the last thing you want in the spring is a bunch of cracked lawn chairs and a broken table.
We have you covered
Your backyard is your own personal getaway, a place where you can lie back in the sun with a cold drink and relax. People go to great lengths to create the perfect backyard escape. Creating your dream backyard takes a lot of work, time and effort. Fortunately, protecting your outdoor furniture has never been easier. Many garden and furniture stores sell customised outdoor furniture covers. You can find outdoor furniture covers for virtually anything, whether it's a table, patio set, couch, or BBQ. Every spring it's the same thing; we dread the day we have to unpack the backyard. We put on our work clothes, have a cup of coffee or two, and prepare to take on what feels like an insurmountable task. But wouldn't it be nice if we never had to pack anything away for the winter? Imagine we could just leave our patio furniture outside all year round. As it turns out, you can do just that.
Eliminate the annoying task of covering up your furniture each night with cast aluminum outdoor furniture. This durable, quality-made material can easily withstand all the elements Canada throws at it. You don't have to worry about rain, sun or snow, because cast aluminum outdoor furniture is built to last. It may cost more initially, but when you invest in cast aluminum outdoor furniture you won't be disappointed. It can even save you money in the long run when you won't have to constantly replace your patio set every summer. And what about rust? Don't worry, cast aluminum outdoor furniture is rust-proof. Its classic design is appropriate for any occasion, from a Sunday BBQ to a wedding ceremony. You can easily make the furniture your own by adding pillows, covers or blankets. This versatile material is the way to go, though if you choose otherwise there's always outdoor furniture covers.
Visit your local patio and garden shop for more information on outdoor furniture covers and cast aluminum outdoor furniture.