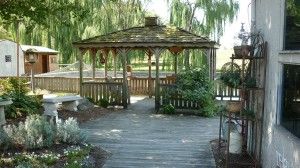 I love my backyard. I love enjoying the outdoors from the comforts of my home. The warmth, fresh air, and sunlight bring joy to my day. I frequently serve meals for my family in the open air. In the evenings, I sometimes sit on my patio and sip a tea or glass of wine while I review some readings or discuss with my husband the day's events under our cantilever umbrella. On a warm summer day, I enjoy lunch with my kids and never have to rush to finish at their pace. I can watch them play while I catch up after cutting bits of chicken and catering vegetables to discriminating green critics.
My husband and I did some restructuring of our backyard this year when our youngest son started to walk. Three sets of running feet in our home meant that we needed to extend our living space.
My outdoor backyard experience became a lot more comfortable when I invested in solid patio furniture. Now, I am normally a thrifty shopper but I came to terms with the fact that where I spend an adequate amount of time, it is worthy of my investment. My patio is an extension of my kitchen and my home. Quality, comfort, versatility and durability are my mottos. Three upgrades to my patio have made living more comfortable for me and my family.
A new 11-foot aluminum weather-resistant cantilever umbrella provides more manageable shading to the entire patio table. The benefit is that it does not block the centre of the table and I can easily maneuver it by tilting and maneuvering the lever. It blocks the sun at different times of the day and the entire umbrella protects the whole table. Even on days when drizzle surprises us as dinner, we laugh and enjoy it in delight.
I have upgraded to cast aluminum chairs. I have left my cast aluminum chairs outdoors for two years now, only covering with a patio cover slip during the winters. Unlike my old metal chairs, which accumulated rust from seasonal precipitation cast aluminum rarely rusts. No need to paint over to upgrade the look- cast aluminum always looks fresh and sharp!
Although we don't have a pool, as it just does not suit our life style or space, I love my patio lounge chairs. Shaded under trees, it's a nice way to enjoy some "semi"-me time, while keeping one eye and one ear on the human critters running around. A durable weather-resistant wicker design fits right in with our garden space.
I have fallen in love with my back yard again and looking forward to Spring!