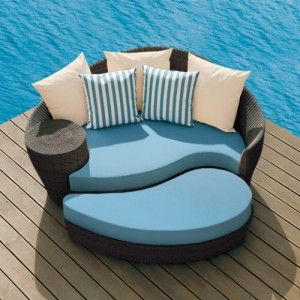 Being able to have your own affordable escape in your backyard could be the perfect way to make the most of this coming summer! Creating an oasis on your patio can be as easy as relaxing in it if you follow these simple 5 steps.
Ditch the standard patio umbrella. Regular patio umbrellas that stand straight up are inconveniently difficult to maneuver and allow for minimum sun coverage. The new and modern cantilever umbrellas are supported on one end and hang over an area appearing to float without much support.
Not only does a cantilever umbrella look great but it also gives a larger area of sun coverage and is easy to maneuver.
Keep your patio furniture clean and protected. With the climate changes we see here in Canada, patio furniture can get ruined if it isn't properly taken care of all year round. Outdoor furniture covers are a great way to keep your furniture looking like new by protecting it from sun damage, rain damage and insects. Outdoor furniture covers are definitely a great investment because having nice and clean patio chairs, tables and couches are important in creating a comfortable oasis on your patio.
Color makes everything come to life. Every patio needs a little splash of color to give it a relaxing and tropical feel. By adding flowers and funky fabrics around your patio area you can aesthetically enhance the appearance and feeling of serenity in your backyard. Choose a decorative cantilever umbrella, toss in some patterned pillows, blooming flowers and you won't even recognize the space!
Add light to your night. Hanging out on your patio while the sun is blazing is always good time but why have the fun stop when the sun goes down? Adding different kinds of lights can give your patio space the shimmer it needs to keep the socializing going from dusk to dawn. Candles, lanterns, and garden lights are great ways to add just the right amount of light to keep the night going and if bugs are an issue around your patio area, citronella candles are the perfect way to solve that problem.
Water is life. If you don't live next to a beach or have a pool, bringing the wonders and sounds of water with a fountain can be a nice alternative. Fountains are easy to install and come in many different shapes and sizes, they look beautiful and will give your patio the peaceful appeal you'll want to escape to whenever you can.
By merely taking care of your patio furniture with outdoor furniture covers, getting a cantilever umbrella and updating design elements of the space, you'll find yourself enjoying your revamped patio with friends and family this summer and for many more to come!