Get a Head Start on Summer with Great Patio Furniture in Ottawa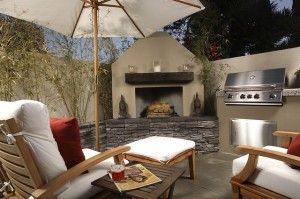 Winter woes are something we've all experienced. Daydreaming the winter doldrums away with visions of barbecues and pool parties when summer arrives at last. Refreshing your deck with new outdoor patio furniture is a sure-fire way to ring in the summer, and planning for it during these cold months will take your mind off of the harsh realities of winter outside. Depending on what kind of look they want to achieve with their patio furniture, Ottawa residents have a number of styles to choose from, both classic and cutting-edge.
Sling Patio Furniture
An ideal choice for informal settings. Appropriate for pool-side or casual dining, sling outdoor patio furniture is durable, versatile, and small enough for balconies and other areas where space is at a premium.
Wicker
Wicker is great for either indoor or outdoor use, creating a modern look for your patio or dining area. As a piece of versatile patio furniture, Ottawa residents love the ability to use them in multiple locations while maintaining the contemporary look they create.
Cast Aluminum
This rust-proof variety of metal furniture imposes a strong, modern look on any patio. Cast aluminum's versatility comes not with its frame, but its ability to be decorated with any number of cushions or covers.
Wrought Iron
Wrought iron sets are built to enliven even the smallest patio spaces with their class and elegance. Durability is not an issue—this heavy-duty furniture can handle whatever Ottawa's weather can throw at it.
Teak
Teak patio furniture is a popular choice for Ottawa residents who enjoy outdoor living during the summer months. Teak is heat-resistant, so you won't have to worry about burning yourself when sitting down after it's been left out in the sun. Its natural oil content and resistance against rot also allows it to be left outside on rainy days.
Resin
One of the most popular forms of patio furniture, Ottawa residents love resin furniture for its extreme durability in outdoor climates and minimal need for maintenance. Easy to clean and suitable for formal or casual dining, resin is a surefire crowd pleaser.
Loungers
Loungers are perfect for laying idle in the summer sun, working on your tan or reading your favourite book with a glass of lemonade at your side. A large selection of colours makes loungers easy to match with the rest of your poolside décor.
As you can see, there are almost endless choices for refreshing your deck for the summer. If you're interested in updating your back patio, or are simply daydreaming the winter months away, don't hesitate to contact a local outdoor patio furniture store and get a head start on being the hottest place to stay cool during the summer.