Keep Your Ottawa Patio Furniture Safe This Winter with the Right Cover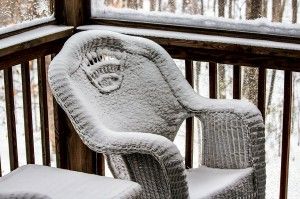 Winter is coming—well, eventually. It may be unseasonably warm, but at some point this year, snow and ice will creep into the city of Ottawa, patio furniture everywhere should be prepared and guarded against the harshness of these environmental factors. Fortunately for you, especially if you're low on indoor space, most patio furniture won't have to be brought inside. Natural wicker may need to be stored inside, but synthetic wicker, aluminum, iron, and many other common building materials can be left outside by simply using the appropriate outdoor furniture covers. Here's what to look for in a proper cover:
The Right Material
Some materials, such as polyester, are waterproof, but can crack in the extreme cold, making them a poor choice for winter protection. Others, like canvas, are more durable and breathable, but susceptible to leaks. While breathability is a must if you want to prevent condensation buildup from damaging your patio furniture, Ottawa shoppers should look out for covers that are made specifically to protect from the elements while preserving the condition of the materials. There are many options available that are waterproof, UV-resistant, and made to protect your investment in any season.
The Right Fit
This should go without saying—but clearly, outdoor furniture covers that are too small won't do the trick since they can't protect the entire piece. Similarly, however, a cover that is too large, or too baggy, or the wrong shape, might do a poor job of protecting your patio set. Whenever possible, buy covers that are made for your specific set, or custom made to fit them precisely.
The Right Features
When we say features in relation to patio furniture covers, the first thing to come to your mind is likely straps or other tie-downs. These are definitely both important and convenient—they help make sure that the protection the cover offers is absolute, so you don't have to worry about it blowing away, and they also make securing your cover much easier when they are built in. Some covers also include cushioning for underneath chair and table legs that prevents debris and snow from collecting underneath the furniture. Some of these inflatable cushions are also designed to be water-resistant and breathable, to help reduce the risk of mold or other damage all year round.
To find the best outdoor furniture cover that suits your needs, trust the Ottawa patio furniture experts!