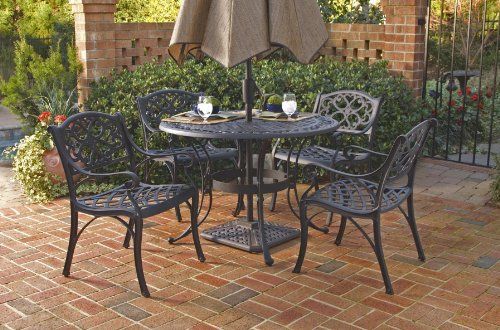 When shopping for outdoor furniture, are you looking for something durable, low maintenance that will also look sharp? Are you looking to create your own paradise in your own backyard? If so, cast aluminum outdoor furniture is just what you are looking for. What is so unique about cast aluminum furniture is that there is such a wide variety of models to choose from that you are sure to find something that is just right for you.
Here are five things to consider when shopping for cast aluminum furniture:
Colour
Are you looking for furniture that is light or dark? If you are looking to brighten up your space, cast aluminum furniture comes in beautiful light creamy colours. If it is a medium chocolate brown you are looking for, to match your dark flooring and lighter colour of your house, cast aluminum has got you covered. If you are looking for something closer to black or green, you can get it in cast aluminum, too.
Style
This type of outdoor furniture is available in an antique style with curved details. Cast aluminum furniture is also available in a more modern style. If you are looking for a style that has clean edges and sharp lines, you will love a beautiful set of cast aluminum furniture. You want to make sure that your outdoor furniture set flows nicely with the rest of the space you will be keeping the furniture in. If you are feeling unsure where to start, bring an outdoor decorating magazine that has an item that you like when you go shopping. You can show it to the sales person who helps you find the perfect cast aluminum outdoor furniture for you.
Chairs
Cast aluminum outdoor furniture has a variety of chairs to offer you. Armchairs are convenient for end tables, and for dressing a square table that seats four. If you are looking for a modern furniture set and want to seat many people, armless chairs are a great option. Are you more interested in swivel armchairs? If so, these chairs with an added cushion are a great choice in cast aluminum.
Cushions
The cushions you add to your outdoor furniture can make the whole difference to the appearance of your furniture set. If you are interested in a dark brown cast aluminum furniture set, a light green, yellow or orange can add a wonderful splash of colour to your space. A creamy white cast aluminum furniture set would look great with light blue, grey or beige cushions.