A Little Care and the Right Outdoor Furniture Covers Go a Long Way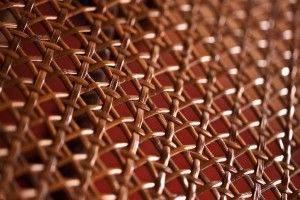 Have you ever just stared at your wicker patio furniture, scratching your head, wondering, "How exactly do I care for and maintain this stuff?" Well we're here to answer those questions and help you get the most out of your furniture investment, keeping it in great shape and looking good for years to come.
What makes wicker so special is how it's made. It can be crafted from a variety of materials—bamboo, rattan, grasses, or willow branches, to name a few—which are woven in a fashion that makes the end product strong yet surprisingly lightweight, perfect for chairs, ottomans, tables, and giant effigies.
Getting the Right Wicker
The first step in maintaining your wicker patio furniture is making sure that it is, in fact, intended for your patio. A piece not meant for outdoor use—especially an older one—may deteriorate quickly if exposed to the elements. It's also important to invest in outdoor furniture covers to protect it from excessive rain or other conditions.
Storing Your Furniture
However, outdoor furniture covers won't be enough to protect your wicker patio set from the harsh winter elements, and you'll need to store it indoors until spring rolls around. Make sure to maintain an even humidity and good air circulation wherever you store them. Too little humidity can make it brittle, but too much can bring on mold or mildew.
Get the Vacuum
Surface dust can be cleaned using your vacuum cleaner with a soft-bristled attachment on the end. To get those hard-to-reach places, use a dry paintbrush.
Know How to Wash
Not every wicker material can be cleaned the same way—detergents will be fine for some, but damaging for others. Bamboo, willow, and rattan can be cleaned with soapy water and a soft brush. Reed can be gently hosed and cleaned with a detergent. For twisted paper or grass, just use a damp cloth.
Soften the Wear and Tear
There is one ridiculously easy and simple way to extend the life of your wicker patio furniture—and that's to use a seat cushion whenever you sit on it! It may be strong enough to support an adult human's weight and then some, but over the years, all that weight will take its toll. Using seat cushions will help reduce indents and sagging seats, so you can get more out of your favourite patio set for longer.
There you have it! With the proper cleaning, storage, maintenance, outdoor furniture covers, and seat cushions, you should get years out of your wicker—without breaking a sweat!