Make Your Patio Party Perfect with Everything from a Great Playlist to a Cantilever Umbrella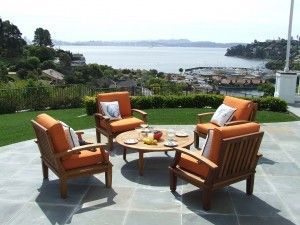 Hosting a backyard barbecue that really blows your guests away isn't easy work. From making sure your grill game is on point to having enough outdoor patio furniture to accommodate everyone, there's a lot that goes into making the perfect patio party. Here are some of our favourite quick tips for making a party a success!
Beat the Heat
Ice cold drinks—whether soda, punch, or something a little harder—are a must, but it's important to stay hydrated and be wary of the effects of prolonged sun exposure. Make sure there is plenty of water readily available, keep some extra sun screen on hand for those in need, and consider setting up a cantilever umbrella guests can sit under to catch some shade.
Kick out the Jams
Music and parties go together like hot dog and bun, so make sure you have a crowd-pleasing playlist as a backdrop. You may feel the urge to spin the latest hits, but go for familiarity over modernity—for example, if you and your guests grew up on a steady diet of Bowie and the Stones, then blaring the latest Bieber single will just make things awkward for everyone.
Know Your (Seating) Limits
It'd be fun to invite the whole neighbourhood, but can you fit them comfortably? Eating your brother-in-law's pasta salad while standing up is a difficult task. If you intend to have more than one party ever, it would be a good idea to invest in outdoor patio furniture that seats a decent number of people comfortably. Wicker furniture is great because it's lightweight but durable, so it can be stored away easily while not in use, and it will last for years.
Have a Rain Plan
No one purposefully plans their patio party on a rainy day, but things happen (and weather forecasts aren't 100 per cent error-free). Plan out an easy tabletop game or card game—anything from Scrabble and Jenga to Crazy 8s or, if you're brave, Twister. If you're having a small party and don't mind a little spray, a cantilever umbrella will help keep you dry outside. The major benefit to a cantilever umbrella is that it doesn't need to be anchored down to a patio table, and can be easily adjusted for optimum coverage.
Don't Forget to Have Fun
It's easy to get so wrapped up in making sure everyone else is enjoying themselves that you forget to have fun for yourself. It's your party, though, and you deserve to enjoy yourself just as much as everyone else! Take a break, let someone else tend the grill for a bit, and be sure to relax, mingle, and let your hair down. Enjoy actually lounging on some of that outdoor patio furniture you invested in, and enjoy the fruits of your labour. You've earned it.