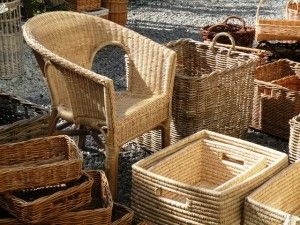 Outdoor wicker furniture is becoming a popular choice for outdoor living spaces, and with good reason.  Wicker patio furniture is attractive, versatile, durable and comfortable.  It also comes in a wide variety of colours and styles, making it easy to fit wicker furniture in with any outdoor decorating scheme.  However, since wicker is made of all natural materials that are weaved together, some people are not sure how to maintain it.  Wicker patio furniture is easy to care for, but there are some specific techniques that you should use to keep it looking its best:
Keep it dust-free – Dust and dirt tends to build up in the crevices of wicker patio furniture, which can cause the fibres to breakdown over time.  To prevent this from happening, vacuum your outdoor wicker furniture from time-to-time, making sure to use a dusting attachment so that you can reach into the spaces between the weaves.
Clean gently – Vacuuming your wicker patio furniture on a regular basis will keep the worst of the dirt and dust off of it.  But once a month, you also need to clean outdoor wicker furniture with a bit of soap and water on a damp cloth.  After cleaning the furniture, simply use a garden hose to rinse off the cleaning solution, and leave it in the sun to dry. Never use abrasive brushes to clean wicker, as it can damage the natural fibres.
Inspect the weave – The weave on outdoor wicker furniture can shift over time, so it is important to inspect it every once in a while.  If you do find the weave has shifted, simply push it back into place.  When you do this inspection, also check for any broken pieces of weave.  If you find any, don't panic!  The weave on wicker patio furniture can be easily repaired with wood glue.  Just make sure not to use the furniture again until the glue has dried.
Think about touch-ups – Wicker furniture is often finished with a coat of paint or varnish.  However, the finish on outdoor wicker furniture can deteriorate over time, leaving the furniture vulnerable to water damage.  To avoid this issue, think about touching up your wicker patio furniture every couple of years with spray paint or varnish in order to keep it looking good.
Cover it up – Wicker patio furniture is made to be durable, and is pretty immune to the elements.  However, bad weather makes anything break down over time, including your outdoor wicker furniture.  To extend the lifespan of your furniture, why not invest in some furniture covers for when it rains or becomes too hot or cold.  And if you live in a really cold climate, it makes sense to put any style of patio furniture away into indoor storage for the winter months.