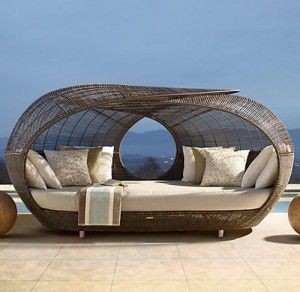 The cold and clingy winter has finally left Ottawa and spring is in full bloom. With the warm weather fast approaching, many families are looking for ways to make spending time outside more enjoyable and relaxing. Outdoor patio furniture is a great way to add comfort and style to your backyard, but with so many different options, what kind of furniture will you choose? Follow these five tips buying and maintaining patio furniture to ensure your selection provides comfort, durability and style.
Choose wicker patio furniture for its strength and durability. Wicker patio furniture requires some maintenance but is easy to clean and has a fresh, classy look. It can withstand harsh weather extremes making it a good choice for Canadian residents.
Aluminum framing is also a good material when looking to invest in outdoor patio furniture. Aluminum is very good at withstanding harsh weather climates, as it does not rust. You can easily switch the cushions on aluminum furniture and give it a fresh new look whenever it suits you. Aluminum is a good choice if you are looking for a modern, industrial look.
Choose acrylic-based fabric when selecting cushions, umbrellas and other soft materiel items. Look for companies that sell Sunbrella acrylic, which is fade free and dirt resistant. Acrylic materials hold up well in various weather conditions.
Store your outdoor patio furniture properly during the winter to ensure its longevity. If you are buying real wood wicker patio furniture store it inside your garage or shed during wet and cold seasons. Store all cushions in plastic bags and ensure everything is kept in a dry space. Before storing it is always wise to wipe down wicker patio furniture with a vegetable-based wood oil diluted with water. Aluminum patio furniture can be stored outside year-round, but must be covered during cold and wet seasons.
Choose quality outdoor patio furniture so it will last many years. Look for good quality wicker patio furniture and inspect it regularly for mold and mildew. If you want furniture that requires less maintenance choose aluminum, and don't forget acrylic based cushions!
If you follow these tips you can expect your outdoor living space to be filled with comfort and class this summer.