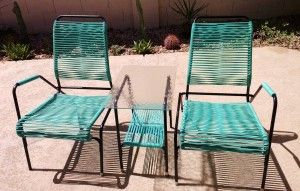 With the arrival of a new year, one can often hear an abundance of the saying, "out with the old and in with the new." While not to diminish the saying, in some cases you don't always have to part with the old to make room for the new. There are many reasons as to why you may want to acquire new outdoor patio furniture. Perhaps you've done a remodel, you're old furniture is out of date, you move into house with a bigger or smaller yard, you renovate your landscaping, etc. Once you've acquired new patio furniture, your next step is usually to deal with your old ones. Instead of tossing them or giving them away, here are a few other options to make them work with your new outdoor patio furniture:
Change the Colour
If your new furniture pieces do not match your old ones, perhaps a few quick alterations can create a harmonious style. Most outdoor patio furniture, such as cast iron or wood pieces, can be easily painted to a more complementary colour.
Repurpose
While you may no longer need two umbrellas or tables, your old pieces may still work in some other sense. Here are a few ideas for different umbrella uses. (https://patiocomfort.ca/creative-winter-uses-for-your-cantilever-umbrella/). Adding outdoor patio furniture covers to an old table or bench can also offer some added storage space.
Opt for Outdoor Patio Furniture Covers
Outdoor patio furniture covers are the perfect accessories for utilizing old furniture pieces. Outdoor patio furniture covers come in a variety of styles, you should be able to find one that will complement the décor of your new pieces. They can also aid in repurposing certain pieces, as mentioned above. At the very least, outdoor patio furniture covers can be used to protect your old pieces until you've found a new use for them.
Try Repositioning
The deck isn't the only place for outdoor patio furniture. Having two or more sets of outdoor patio furniture gives the opportunity for new seating areas. Perhaps you can use some of your old chairs and a side table to create a quaint front bistro setting. Or maybe, a bistro set can be added in near a garden for a charming tea setting.
Bring them Indoors
Your old pieces, with a fresh coat of stain or paint, might just be a great rustic addition to your indoor décor. While a complete set might be a stretch, a bench, side table, bistro set, and/or chair can add to your style and provide extra seating room.
While there are many reasons why one might invest in new outdoor furniture, there are also many reasons as to why one may want to keep their old pieces from nostalgia to reducing waste. Whatever the case, these ideas are here to help give you the inspiration to say keep the old with the new!