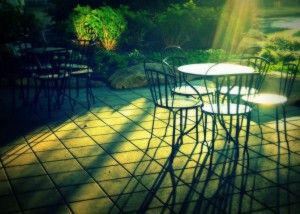 I love my patio set: the table, the chairs, the chaise lounge…everything. I probably love it even more than the furniture inside my house. Not only does it feel remarkably comfortable, but it obviously has a strong association with summer, sun, and great weather. I spent a good deal of time shopping for the right set and couldn't imagine ever finding something that fits me and my backyard so perfectly. This is why I've invested in outdoor furniture covers for my patio set. While not initially the sexiest thing, furniture covers are essential to protecting and preserving your outdoor furniture. It's pretty embarrassing inviting a group of friends over to have a meal outside on your patio, only to have them seated at some gross, worn, and poorly preserved furniture. It's something that would make anyone lose their appetite pretty quickly. Investing in furniture covers is an absolute must if this is something you ever plan to do. There's a wide range of conditions that outdoor furniture covers will protect against:
Heavy rain
High winds
UV light
Insects
Tree sap
Flying debris
Furniture covers can be used as a short-term shelter for inclement weather or as a long-term storage solution. This way they preserve the beautiful furniture that you've invested in for all the dinners and parties to come.
You also don't need to worry about your furniture covers messing with the look you strove so hard to create with your patio set. Outdoor furniture covers are available in a variety of styles and from many quality manufacturers that are just as invested as you are in preserving your investment. Do you have lilacs all over your backyard garden? Did you go for a bit of a Prince-meets-the-Joker purple motif? Manufacturers have furniture covers in a variety of colours and styles to fit most design preferences.
Perhaps you don't want to deal with the hassle of covering up all of your chairs, tables and loungers individually though. In many cases, you don't have a lot of time to get the cover and use it before a torrential downpour hits you. Well you can also get covers designed to cover a whole set. No more fussing with individual outdoor furniture covers for you.
Obviously there are a lot of options out there and you have to determine which one is right for you. But if you value your patio furniture at all, then there's no debate: outdoor furniture covers are a must if you want to protect, preserve and extend the lifespan of your furniture.