Cantilever Umbrellas Need Special Care and Storage Too. Here Are Some Tips!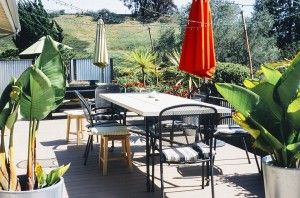 When winter rears it's cold and snowy head, it's time to pack up the summer patio furniture until next season. Although we often think to protect the large items such as chairs and tables with outdoor furniture covers, other items, such as your cantilever umbrella, are often forgotten. A neglected umbrella could be a damaged one full of mold, mildew, or mechanical issues once spring arrives. Follow these steps to be sure your umbrella is ready to keep you cool in the shade.
Get Cleaned Up
Your cantilever umbrella may have accumulated debris and dirt through patio season, so now is the time to clean it all up. Gently sweep away dirt, leaves, twigs, and any other debris that has attached itself to the fabric. Next, remove the umbrella from the stand and lay it open on it's side. With warm, soapy water, thoroughly wash the full piece in sections. You will see the dirt start to melt away.
Dry as a Bone
After washing, your patio umbrella should look like new! Now, gently wipe it down and leave it open to fully dry. Closing it right away can lead to moisture buildup that can destroy the fabric and cause an unpleasant smell once the umbrella is open again. A mild, sunny day is a great time to let the fabric dry. If you aren't presented with a particularly sunny day, you could also try adding some heat from a hair dryer to make sure everything is dry. If you do go this route, keep heat application even and low to avoid damage.
Wrap Things Up
Once everything is clean and dry you can close the umbrella. Just like furniture often comes with outdoor furniture covers, cantilever umbrellas sometimes have covers of their own. If your cantilever umbrella has a cover specifically fitted for it, then tightly secure it in the cover. If, for whatever reason, it does not have a cover, tightly wrap the umbrella in a large sheet of plastic such as a paint drop cloth. The plastic should be larger than the umbrella. Once the cover is secure, tape the sides to keep it in place. The plastic will help protect fabric from mold and mildew over the winter as well as keep the arms of the umbrella in place. Snagging even one section on an object could bend or break your patio umbrella.
Storage
Find a location that is dry through the winter months such as a secure garage, basement, or attic. Be sure to avoid areas where dampness and wet weather might creep in without your knowing it. You want to be sure that your umbrella is ready to cover your outdoor furniture and yourself come spring, so store laying down or standing up away from other objects that might bend, misshape, or cause damage.