Protect Your Outdoor Furniture from Ottawa's Cold Weather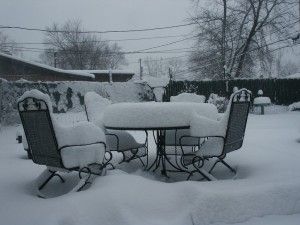 Unless you've been living in the Bahamas for the past month, you may have noticed a distinct chill slowly creeping into the air. We've been lucky to have a mild autumn this year with more rain than snow so far, but make no mistake, winter will be here before you know it—and with it comes snow, ice, and frigid temperatures. So how do you take care of outdoor furniture in Ottawa's cold months? What do you store, what do you treat, and what do you simply cover? The Ottawa patio furniture experts are here to answer these questions and more.
Wicker
Let's start with wicker patio furniture—it's lightweight yet durable, making it a very popular choice for patio sets around town. Wicker isn't actually a material though; it's a construction style, and is made by weaving thinner, individual strands to make a structure greater than the sum of its parts. It can be made from synthetic materials, and these can simply be covered up for the winter. But wicker made from rattan, bamboo, or other woods or organic materials need to be brought inside and kept away from humidity.
Teak
Teak is another popular choice for Ottawa patio furniture—it's a hardwood tree found in tropical regions, and because of this, it is naturally acclimated to humid and moisture-rich environments. It has a high oil content and is resistant to rot. You don't have to bring it inside during the winter, but you should absolutely cover it with a breathable cover.
Iron
Iron is a strong and durable material that can last for years. Iron outdoor furniture in Ottawa can be left out, but you need to prepare it first. Begin by inspecting it for rust. You can remove rust with white vinegar or a thick, pasty mixture of baking soda and water. Repaint where necessary and coat with an anti-corrosive finish before covering for the winter.
Aluminum
Unlike wrought iron furniture, cast aluminum is rust-proof, making them well-suited to the humidity of Ottawa. It's not without its own care regimen though—you still need to clean it, and regularly wax it to keep it looking shiny and sleek. If you are going to leave it outside, be sure to leave it in pristine condition before you cover it.
For Best Results
Of course, if you're not sure how best to handle your outdoor furniture in Ottawa's winters, then it doesn't hurt to store it inside just to be safe—provided you have the space! Accessories like cushions, seat covers, umbrellas, hammocks, and anything made of glass or fabric should always be stored safely inside and cleaned before being tucked away to prevent mold or mildew. If you have any questions, be sure to contact the Ottawa patio furniture experts, who will be happy to help.