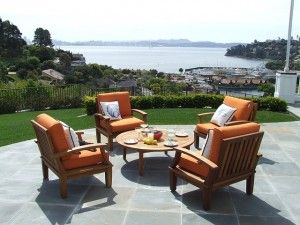 The sun is shining, the grass is green, and it's finally warm enough for you to spend extended periods of time outside – it's summertime! Along with summer comes the desire to eat popsicles, jump in the pool, get a tan, and basically enjoy your backyard once again. Now, what's stopping you? Patio furniture or the lack thereof. You might not have enough of it or it might need to be replaced, whatever your needs are, you can easily ready your backyard to be enjoyed by friends and family.
To buy patio furniture in Ottawa you have to be on the look out for what will suit your needs – aesthetically and practically.
Are you a sling chair kind of person? This type of furniture is laid back and relaxing just like its name. Or maybe wicker is more your style with its intricate weaving and classic country look.
Ottawa is a patio furniture town what with all of the condos and suburban houses that are popping up all over the city; selecting the right patio furniture in Ottawa is a common conundrum for dwellers of all sorts of homes.
Cast aluminum is another option; it's a durable and modern choice that just hints at an older, vintage era. Another style that makes for durable patio furniture in Ottawa is wrought iron, which is the perfect type of material to help you make the most of a small space. Ideal for balconies and other smaller locations, Ottawa's patio furniture needs are varied but still easily satisfied.
Other consistent types of materials found on Ottawa's patio furniture market are teak, resin, and lounger styles. Teak is known for its high resistant to heat, which makes it an ideal material to choose when buying patio furniture in Ottawa. Resin, on the other hand is versatile enough to shine at a semi-formal occasion or an informal diner party. Finally, loungers are the best choice for a casual, comfortable backyard where you simply wish to splay in the sun and enjoy the wonderful weather while it lasts.
Ottawa's patio furniture needs are wide-ranging and shopping for patio pieces requires a reflection upon how the furniture will be used, where it will be placed, and where the chairs will be spending the winter months. From resin to wrought iron, there is a chair style to satisfy everyone's outdoor furniture desires. In order to paint a pretty picture with your patio, begin by picking the perfect patio chairs and from there it'll all come together.