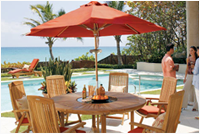 Setting up a patio umbrella of any kind in your outdoor space can help provide some much-needed shade for the summer and can also be a visual improvement for your patio. Becoming familiar with the style and function of cantilever umbrellas can help you determine if this style of patio umbrella would be your ideal choice.
Overall Design
A cantilever umbrella is a unique purchase to complement your existing outdoor patio furniture due to the interesting design. Generally, these umbrellas have a sturdy base that holds the top-heavy umbrella upright and resistant to the wind. The pole or rod slopes to the side where it reaches the top of the umbrella itself. While there are slight differences between models of these umbrellas, they are generally quite modern and can be a great focal point in a backyard.
Shape and Size 
The dimensions of these umbrellas vary based on the model that you choose, but generally the umbrella section measures anywhere between 9-13 feet in their diameter. The shapes that are available for your umbrella also include choices such as round, square, octagonal, and hexagonal. Opting for a size that will provide adequate shade is important so that you can be fully satisfied with your purchase.
Materials Used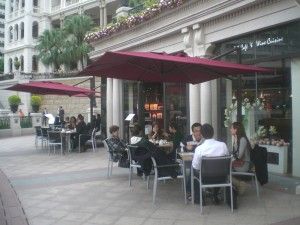 From thick linen to polyester that is cheaper in price, there are many choices for you to consider when picking out the material that you want your new umbrella to feature. While the costs can vary for these different materials quite a bit, it's also important to look into the durability of the materials used. Opting for materials that will look great aside the rest of your outdoor patio furniture, along with keeping an eye out for weather-resistant materials that will help provide the shade that you want. The materials for the pole can also include plastic, metal, and wood, each with their own benefits and drawbacks. Opting for the highest-quality cantilever umbrella that you can afford can ensure that it will continue to last in the years to come and be a visually appealing addition to set up with the rest of your outdoor patio furniture.
The unique design of the cantilever umbrella help it stand out in the selection of patio umbrellas, but the other qualities of their design should be considered before purchasing a purchase so that you can be confident that you've made the best purchase to complement your outdoor patio furniture.