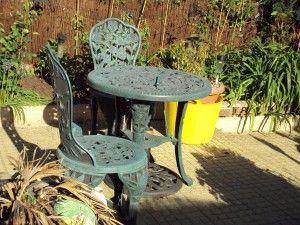 A backyard is more than just a lawn. It's where families reconnect, where friends get together, where children make their first catch, skate, dive or cartwheel. It's where you can relax in the warmth of the summer sun and bask in the beauty of the winter snow. All of these things already make a backyard special. By choosing the perfect furnishings for your backyard you can help create an even more ideal setting.
For a long lasting addition to your backyard, here's why you should consider cast aluminum outdoor furniture:
Durability
Cast aluminum outdoor furniture is made to last and does not rust due to a chemical process called aluminum oxide. This is especially important with the heavy snow and rain that comes with our Canadian climate. To ensure safekeeping during the winter you can also adorn with outdoor furniture covers. Aside from it's rust-proof properties, cast aluminum outdoor furniture also has an ideal weight to strength ratio – meaning it is light enough to move easily but strong enough to stay solid and durable. Unlike regular aluminum patio furniture, which is often made from pieces welded together, cast aluminum is solid.
Versatility and Variety
Cast aluminum furniture is made by pouring liquid metal into sand casts. As such, the casts can be molded to incorporate intricate and trendy designs. Powder coating technology has also allowed for variations in colour and texture, giving you a wide variety of aesthetic furniture to choose from when you opt for cast aluminum. Aside from this, cast aluminum furniture can also be accessorized with outdoor furniture covers as well as colourful cushions to add extra comfort, brightness and style. These cushions can even be replaced at a later time to create a brand new look without a brand new cost.
Low Maintenance
Because of cast aluminum outdoor furniture's resiliency, it requires little to no upkeep. There is no staining, painting and rustproofing as there is with other types of patio furniture. Usually a garden hose will be enough to rid any dirt and debris. You could even protect from this dirt and debris by investing in some outdoor furniture covers.
In Canada our weather changes can be harsh on the things we love. But by choosing a durable patio set and by protecting this investment with outdoor patio covers, you can ensure your ideal backyard setting for many more barbecues, family reunions and birthday parties to come.