Outdoor Wicker Furniture Has Been in Use for Thousands of Years – and for Good Reason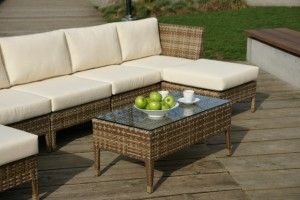 Here's something I bet you didn't know about wicker: it actually dates back all the way to ancient Egypt, as far as archaeologists could tell. The pharaohs of Egypt had a wide array of items in their tombs made from weaved reeds, from furniture to wig boxes and chests. The Romans used it, it was found in the remains of Pompeii, and it continued to find popular use throughout Europe from then on, from the Celts down to Spain.
So when you're wondering whether or not to buy wicker patio furniture, think about this: if it's been in use for literally thousands of years, then it's probably a pretty good design. After all, how does that old saying go? "If it ain't broke, don't fix it!"
So what's so great about outdoor wicker furniture? Its unique design actually bestows it with a few great and convenient features. So when you're considering wicker, consider the following:
It's Lightweight…
Your wicker patio furniture is typically made of organic material such as plant stalks, rattan vines, bamboo shoots, braches, or reeds, that are weaved together into a rigid material. Today, some are made out of synthetic materials instead. Because of the weave pattern used, there is actually a lot of empty space in wicker, which drastically reduces its weight relative to its size. It makes great patio furniture because its weight makes it easy to move – whether you're taking it out of storage or rearranging your patio, you'll never break a sweat.
…Yet Durable
Something so light is seldom so strong, but outdoor wicker furniture is just exceptional that way. Its construction is actually a feat of architectural genius – it's incredibly solid considering the amount of empty space, and it can support the weight of a full-grown adult with ease. This also means it will last a long time as long as you take care of it, as it's very difficult to break. If you still want a little extra sturdiness, there is wicker patio furniture available with aluminum framing for added support.
It's Low-Maintenance
Because it's made of organic material, you'll never worry about rust on your outdoor wicker furniture. If it's made of plastic or another synthetic, then it's already completely water-proof. For wicker made of organic materials, you can easily treat it for added water protection – just be sure to move it inside in case of extreme weather conditions (which will be easy because it's so light).
It Has a Classic Look That Suits Any Patio
The best thing about natural wicker patio furniture is that it always looks at home in the outdoors, surrounded by grass, treats, and other plants. Its wooden appearance is simple and attractive and will complement any outdoor space with ease.