In Ottawa, outdoor furniture isn't traditionally used for most of the year. Anywhere between October and May, it's usually too cold with too much snow for Canadians to spend much time outside enjoying the sunshine.
So what do you do with all of the patio furniture you bought for those short summer months? Surely there must be another way to use it for the other eight months of the year. The good news is that there are ways to make the most of winter in Ottawa, outdoor furniture included – you just have to get creative.
For example, cantilever umbrellas, which are a special kind of umbrella where the canopy is suspended from a single, off-centre base, have a few unorthodox cold-weather applications.
Here are a few winter uses for cantilever umbrellas to get your creative ideas flowing: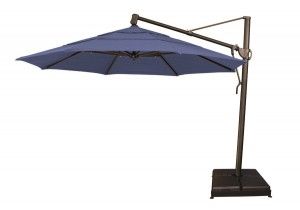 Cold weather barbecuing
Barbecue, traditionally, is a warm weather delicacy that we reserve for long summer nights. However, who said you can't break out the grill in the winter? The trouble with that is keeping the snow from burying your barbecue, rendering it inaccessible for much of the season. So, instead of surrendering to the infamous winters in Ottawa, outdoor furniture like cantilever umbrellas can be left out to create a year-round canopy for your barbecue. That way, you can grill anytime you like, without having to worry about snow.
Dog house climate control
Though dogs don't have their own outdoor furniture, Ottawa canines know that their dog houses can get very cold and snowy during the winter. Why not use your cantilever umbrella as a suspended roof for your dog's outdoor shelter? It'll keep the snow out and the ground around the dog house dry so it will be warmer for your pet's paws. Of course, dogs shouldn't be left out for long period of time when it's cold, but they should have the opportunity to enjoy their dog houses year round if they want to.
As a makeshift snow cover
Canadians who live in Ottawa, which is the world's snowiest national capital, know that brushing snow off of everything and anything gets old fast. Cantilever umbrellas can be a great way to keep snow off of things that shouldn't be buried: outdoor toys, firewood, shovels or anything else your can think of. You'll thank yourself several times this winter after a big snowfall.
So, even if you live in Ottawa, outdoor furniture doesn't have to be retired to the garage after the summer. If you get creative, you can find uses for all of your patio pieces during the long, cold season – it just takes a little imagination.