Outdoor Wicker Furniture Can Give Your Patio an Upgrade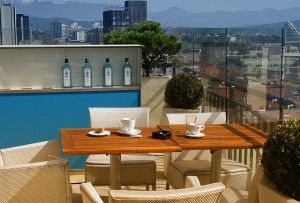 Canadians can only enjoy patio season for a few prime months before the outdoor wicker furniture is put away to protect it from the cold and rain. Make those beautiful days count with a memorable design theme. Yes, your patio can have a theme, and wicker patio furniture can help to complement it. Depending on the style of your home, you may want to match your outdoor theme to your indoor style, or you can go for something completely different with one of these patio décor themes:
Contemporary
Most likely, your patio set will be the focal point of your backyard. It is the space where people gather for food, drinks and BBQs, so you want something that is durable, comfortable and strong. Although wicker patio furniture may not be the first thing that comes to mind when you think of a contemporary theme, it has a classic, simple look that fits many modern designs. Add a bold, graphic outdoor rug, colourful decorative accents and modern block planters to complete the look.
Beach theme
Although a beach or nautical theme fits naturally for a cottage or beach house, you can also transform your home's patio into a summertime oasis with outdoor wicker furniture as the perfect accessory. Add comfortable and colorful pillows, plenty of umbrellas for shade and an outdoor fire pit, or go all out with tiki lamps, bamboo accents and string lights to go with your wicker furniture.
Zen garden
Your patio can become your own backyard Zen garden to help you relax and unwind. Channel some Zen with wicker patio furniture, paper lanterns and a small fountain. Choose soft, calming colours and accessorize with Asian-inspired accessories, such as statues or even a pergola-style canopy. Outdoor wicker furniture is usually weaved from plant stalks, bamboo or reeds that match this look, and make you feel like you have been transported somewhere magical.
Rustic porch
A wicker set is ideal for summer nights hanging out and lounging on the porch. For outdoor, covered, and even indoor porches, go for a rustic style complete with outdoor wicker furniture, cozy cushions, candles and some side tables for holding drinks and books. Wooden and shabby chic accents, such as baskets, jars and antique lamps complete this classic look.
Wicker patio furniture lends itself to many different styles. When deciding on furniture, think about how you're going to use the space and whether you will be mostly lounging, sitting or eating on your patio, and make good use of the space while you can!