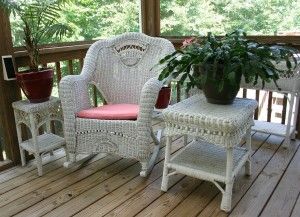 Today the idea of a backyard has changed completely, it's no longer just a place where you BBQ and sit in plastic lawn chairs; a backyard is now a reflection of the inside of your home. People go to great lengths to make their backyards the perfect oasis. They plant cheap flowers, hang tacky decorations and buy new outdoor patio furniture. Yet their backyards still look the same. You can't just slap a cheap coat of paint on a rusty car and call it a new model. You have to strategically plan your backyard, from the smallest flower to your new cantilever umbrella. There are many ways you can spruce up your backyard, it's just a matter of knowing how.
Choosing the right outdoor patio furniture
Choosing outdoor patio furniture may seem like a simple task, but it's not. There are many things you have to take into account. When buying patio furniture you should always buy quality. Outdoor furniture gets used and abused—it's inevitable. You want to make sure that the furniture is durable and made to last. One of the most important aspects of outdoor patio furniture is comfort. You want your furniture to be a comfortable as possible; otherwise your guest may not stick around for dessert. Make sure that your patio furniture meets your needs, if you have 10 kids and a whole lot of friendly neighbours you may want to consider a larger patio set. Finally, consider what atmosphere you're trying to create; choose your furniture wisely.
Block out the sun rays
As we all know, overexposure to the suns powerful rays can ruin what was supposed to be a beautiful summer's day. But have no fear your cantilever umbrella is here! A cantilever umbrella is a contemporary spin on the classic umbrella. Unlike a classic umbrella the cantilever umbrella hangs from a pole that is attached to a sturdy base. The umbrella rotates and tilts to provide maximum protection. This contemporary piece of outdoor furniture is the perfect addition to your backyard. Its unobtrusive build will allow for maximum space and comfort. It's easy to maneuver handles make it easy for anyone to use. A cantilever umbrella is extremely practical, atheistically pleasing, provides great protection and is easy to store.
Try these useful tips and spruce up your back yard. For more information on outdoor patio furniture and cantilevers contact your local garden furniture store.